Empowering young people to overcome inequality and poverty.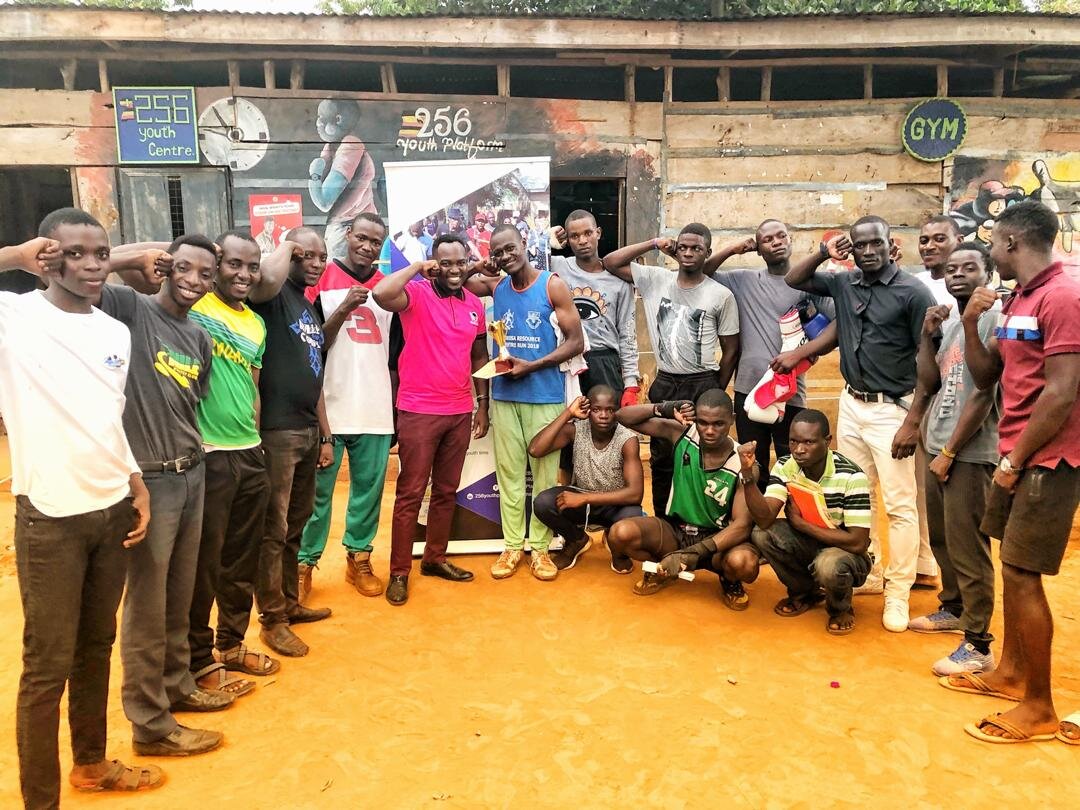 +256 Youth Platform joins the Iganga District Coronavirus Task Force
A team of 15 young people from +256 Youth Platform has joined the Iganga District Coronavirus Taskforce to support and empower the community to survive and overcome this crisis.
For many across the world in low-income countries, Coronavirus is not the only thing about this pandemic that is threatening their lives. Malnutrition, food shortages and inaccessible healthcare caused by lockdown are now affecting some of the world's most vulnerable, particularly those living below the poverty line.
In Iganga district, where 19.7% of the population are living below the poverty line, citizens face these intersecting challenges such as malnutrition, hunger, increased food insecurity, and higher cost of living due to the reduced productivity and high stress on existing agricultural facilities. We are at such a time where food is not only essential for survival but also relevant to improve and boost people's immunity to resist Covid-19. At the same time, we are also seeing economic slowing due to price fluctuations and inflation of food, all of which affect the most vulnerable and may shortly lead to more community-wide violence when resources are scarce.
The youth at +256 Youth Platform are preparing nursery beds and practicing micro-farming in their homes, backyards, and available space to support their homesteads. We have also created and shared online food crop planting videos and inspired many youth to grow food, allowing them to reduce their expenditure on food and have adequate nutrition. Our team has continued sensitization and construction of tippy taps (local hand-washing taps) in public places, local government offices, some non-government organizations, and individual homes, and continues to demonstrate and empower community members to build their own nurseries and grow their own food to prepare for the food shortages that will come (while maintaining social distancing measures).
Please continue to check back here as we continue to update this space on our response work to Covid-19
During this crisis, we are raising emergency funds to provide food, safe water and medicine to each one of our 84 youth members and their families.
The youth of +256 Youth Platform are among those affected by increasing food insecurity and food shortages. Many have lost their jobs and their family's source of income, and are not eligible to receive any food rations or support from the government (which is currently being supplied to the elderly only). Access to vital medicines and healthcare has now become unaffordable and further threatened by the total ban on public and private transport.
Help us provide critical support to our youth by donating today.
£3 per day, for each young person, supports their entire family to eat, stay healthy and survive this global crisis.
To read more about our campaign and donate, please follow this link
Overcoming period poverty
No girl should miss out on her education because of her period. We are tackling menstrual management issues, stigmatisation and lack of education through our Menstrual Hygiene Management and Reusable Pad projects.
Developing youth through sport
Sport has the power to build physical strength, mental strength, personal discipline and responsibility. We focus on all four of these, while challenging gender norms and gender-based violence, through our sporting projects.
Tackling HIV with music
Music is universal. Music is powerful. Our hiphop/rap group use the power of music to sensitise and educate their peers, community and Uganda on HIV and safe sex.
Scholarship recipients
Our goal is for all members of +256 Youth Platform to have the opportunity to complete their education. Our scholarship program enables our youth to finish high school or university, while also giving back to their community
More information coming soon
Today's students.
Tomorrow's leaders.
Our goal is that one day every member of +256 Youth Platform has the opportunity to finish their education. This is why we have created a scholarship program that currently supports 5 young people completing their education (more information coming soon) and have built a Community Library that welcomes all youth to study and learn together.
join +256 youth platform
By young people, for young people.
We believe in the power of young people. And the power of community. That is why at +256 Youth Platform, we have created a community of young people who are working together to better themselves, Iganga and Uganda as a whole.
If you would like to become a member of +256 Youth Platform, please visit or contact us today. We welcome all young people of Uganda, regardless of gender, tribe, religion or education status.